Fish does not get fresher than this!
Fresh from ocean to table
locally fished & processed
Fresh, Frozen, Canned & more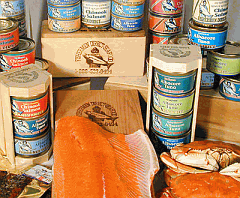 Our crew plays every position necessary to bring you the freshest fish possible – from the ocean to your table.
Our staff (Dixie, Jeff, John, Bruce, Deirdre, Teresa, Sarah, and Phil ) wear many hats – Captain, bait boy, fish processor, display designer, sales clerk, marketing manager, customer service, receptionist, shipping clerk, and security.
Shipping is available to any point in the United States (and points beyond when we can). We'd love to be able to ship to you Internationally, but the shipping companies can't keep our fish as fresh as the Pacific Ocean can. See for yourself when you visit our store in Gold Beach Oregon and experience the freshness for yourself.
IN OUR STORE
In Our Coolers
Chinook Salmon fillets
$29.95 lb
Lingcod fillets
$12.95 lb
Blackrock fillets
$9.25 lb
Smoked Wild Chinook Salmon
$33.95 lb.
Smoked Salmon Jerky
$36.95 lb.
Smoked Blackcod/Sablefish
$22.50 lb
Smoked Lingcod
$19.95 lb
Smoked Oysters
$35.95 lb.
Nova Lox
$35.50 lb
Oregon Pink Shrimp
$10.50 lb.
Shucked Oysters
$18.50 lb.
Oysters in the shell
$15.95 doz.
Steamer Clams
$9.50 lb.
Dungeness Crab
$12.95 lb.
And Much More!!!
In Our Freezers
Chinook Salmon $28.95 lb
Pink Shrimp $10.50 lb
Scallops 10/20 ct $29.95 lb
Med Petrale Sole $12.50 lb
Lrg Petrale Sole $13.95 lb
Yellow Fin Tuna $15.95 lb
Albacore Tuna $10.50 lb OUT
Ling Cod Filet $12.95 lb
Rock Fish Filet $9.25 lb
Calamari Steaks $11.95 lb
Razor Clams $32.25 lb OUT
Sable Fish Filet $15.95lb
Pacific Halibut $25.95 lb
Halibut Bits-n-pieces $18.50 lb
Chopped Atlantic clams $10.75lb
Chinook salmon burger $12.95lb
And Much More!
We have an excellent selection of frozen seafood products that can be shipped today!