BRUCE PERDIKIS
Partner / Operations Manager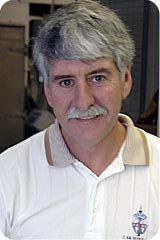 My name is Bruce Perdikis and I came to work for Fishermen's Direct Seafood in April of 2003. As of January 1st, 2010, I am now a proud Partner in the business. Back in April of 2003, the cannery building was being remodeled and Fishermen Direct needed some interior work done.  Scott Boley hired me for my skills as a carpenter to build the Market's new shipping room.  This project turned out well and led to many more.
While working on customizing the wet processing area with a new fillet station, work tables, and ice bin I was introduced to the fine art of fish filleting.  Scott was my mentor, teaching me many things about how the fish market operated.
Scott was very maintenance-minded and taught me how to maintain all of the equipment, to keep things running 100%.  Super cold blast freezers result in a superior quality of the product so I always make sure our freezers are maintained and that the temperatures are monitored daily.  The live crab tanks are also well maintained and we are always checking temperatures, aeration, and salinity.  Smoking fish is a real art that Scott taught me as well and I really enjoy producing the finest smoked salmon I've ever had.
All of the products we process here at Fishermen Direct are of superior quality. Freshness is our #1 concern. As Operations Manager I make sure all parameters for quality are monitored and documented with HAACP Plans.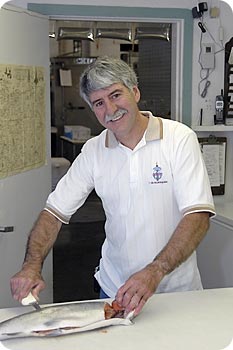 When we buy fish, I immediately have a certain percentage of the catch processed and blast frozen to insure the "Fresh Frozen" Quality. We don't wait for a few days to freeze our fish. It gets filleted, vacuum sealed, and frozen the same day we receive it. Our blast freezers are maintained at minus 10 degrees. Extremely cold temperatures and 4 mil thick vacuum seal bags give the fish an exceptionally long freezer life. All of our frozen inventory is dated and rotated so you will always receive the best possible product.
Since coming to work for Fishermen Direct, I have learned many different aspects of the business and enjoy all of my duties.  When two tons of Albacore tuna show up at the docks I get a little overwhelmed, but before I know it and with a lot of elbow grease, we have it all filleted and in the freezer.
I remember the first year I worked here that the sport fishing on the Rogue River was really hot. Every day there was a line of fishermen at the back door holding salmon to be filleted. I thought to myself, "What have I gotten myself into?". But each year I enjoy seeing the return of the many people that come to fish the Rogue river and use our services to process their catch.
I am originally from Massachusetts where I graduated from High School in 1975.  My father managed a Howard Johnson's restaurant in our hometown of Chelmsford.  There I started work as a dishwasher and soon became a line cook.  Also in my teenage years, my brother John and I had a landscaping business and we groomed the grounds surrounding the restaurant.  Early mornings before school were busy too, as I had a newspaper route to do delivering the Lowell Sun newspaper.
One of the rewards of working so hard as a young boy was the money I had saved.  When I was 12 years old I went to visit my relatives in Ireland for 3 weeks, sightseeing, golfing, and fishing.  After graduating high school in 1975, I traveled extensively cross country, stopping at national parks, camping, and hiking.  The Grand Canyon National Park was one of my favorites, spending about 8 months there.  Also, Bryce Canyon National Park, Yellowstone, and Yosemite National Parks were greatly enjoyed.  When my legs and money finally ran out I settled down in Fresno CA.
I worked selling wholesale swimming pool equipment and was relocated to Santa Clara CA working for another branch. While there I was introduced to the booming electronics field where I soon became employed making circuit boards. High Tech finally burned me out, That's when Oregon sounded real good.
I moved to Gold Beach in 1991 where my sister Deirdre and family were living along with my parents who retired to Port Orford Oregon just to the north of us. Moving from California to here was a dramatic change both in climate and lifestyle. I really enjoy the quiet pristine Oregon Coast and decided this was the place to be. I look at my life today here in Gold Beach and I"ve never had it so good!