DIXIE BOLEY, Managing Partner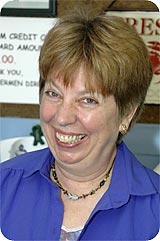 Welcome to Fishermen Direct, our fresh fish store, started in 1998 as the dream of four local Gold Beach fisher people – John Wilson, Jeff Werner, Scott, and Dixie Boley. At that time John fished the F/V Helen Marie. Jeff fished the F/V Deanna Maria. Scott was fishing F/V Frances with me, Dixie, as his partner/wife in our Mom and Pop family operation.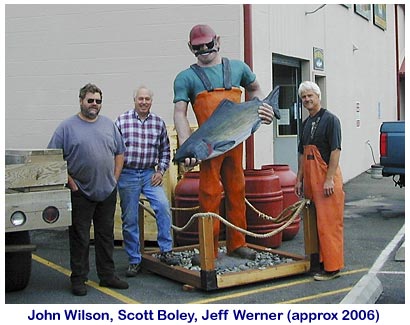 The Boley fishing story started in 1975 when Scott and I moved from Corvallis to Gold Beach, Oregon. We were new Oregon State University college grads who discovered that we really liked small-town rural Oregon living. We moved to Gold Beach with me having a 6-week summer school teaching job, and Scott's newly formed engineering consulting firm, Nearshore Services. Later that same year, a family friend told Scott about a double-ended salmon troller built in 1931, the Fishing Vessel Frances. Scott did some research, finding out salmon fishermen were making enough money to satisfy our needs, plus by this time the lure of the ocean had captured Scott's soul. Scott's death in May of 2007 ended our total of 32 years of fishing with Frances.
Scott was a devoutly dedicated advocate for Oregon Commercial Fisheries, especially his beloved Chinook salmon. Scott served as a councilman on the Pacific Fishery Management Council for 8 years, as well as on many other committees and councils. He worked tirelessly for the industry he loved. At the time of his death, he was working to bring together the Farming Community, Fishing Community, and Tribal Communities on the Klamath River to talk about solutions to fix that beautiful river letting more salmon go up to spawn and getting more baby salmon down-stream into the ocean to grow. We all miss Scott.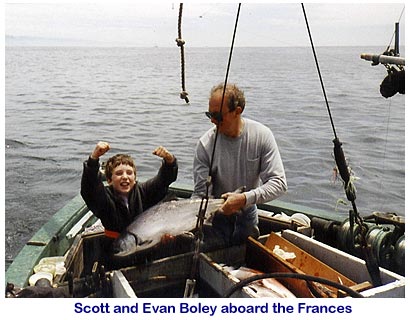 Our son, Evan was born in 1978. I fished until I could not fit between the outrigger poles and the side of the cabin, about 7 months along. In August of '78, there was a terrific storm at sea. We were 110 miles off Newport, Oregon, fishing for albacore tuna. Many of our fishermen friends plus all our family were sure our first child, and the first grandchild on both sides of our family would be born at sea! I always had a safe Captain, though I would tease Scott by telling him, "He was a 60-foot Captain of a 40-foot boat". Evan was born in November and early the next spring started his sea experience as a 5-month-old, fishing with Mom and Dad for Black Cod in the deeps of the Rogue River Reef.
We had triumphs and tragedies over our fishing years. We fished with our dogs Huckleberry Hound – a malamute husky-mix, in the early years and later, Molly Malone – a dingo-collie mix. We tried the cat but she jumped ship at Newport, Oregon. Numerous birds came to rest on the Frances. We would try our best to feed them or even give them a ride back to shore, but the bird schedule and fishermen's schedule never coincided. Evan would swing on the boom in a homemade tire swing. This swinging became a familiar sight on the salmon fishing grounds. Evan always wanted to swing when the Frances went under the Golden Gate Bridge either going into or coming out of San Francisco. We found kid-friendly ports to do our Turn-Arounds, like Bodega Bay, California, where Evan and the dog could roam on the dunes and be free of the small boat space for a short while, until the start of the next Salmon trip. Our fishing trips varied in length, but once the first salmon was landed, bled, cleaned, washed, and put into 32-degree refrigerated seawater – (RSW) tanks aboard Frances we had 4 more days to fish. We made market (sold our fish) on the 5th day making sure our catch would go to the fish buyer as the best possible fresh wild Oregon Chinook Salmon. Our Turn-Around times were done quickly in good fishing weather to get more fuel, groceries, fishing gear, and clean laundry. When windy weather forced small boats onto shore we would either anchor up on the beach to wait out the wind or go into a port town to rest and visit with fishing friends. Such is the life of a Chinook Fishing Family.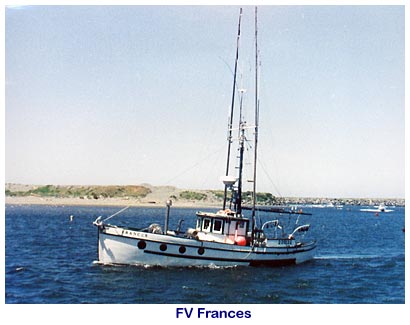 Fishermen Direct started in the downstairs of the Nor'wester Restaurant, selling fish caught off our own boats. We had the opportunity to move into the Cannery Building at the Port of Gold Beach in 1998. Our business grew and prospered – our goal was to get the freshest locally caught salmon, rockfish, and lingcod to our customers. We added other frozen products in top-of-the-line freezers to ensure exceptional quality. Fresh Dungeness crab followed caught in season from December 1 to mid-August. We hold the crab in refrigerated live tanks built by the partners. As the seasons changed we saw changes, too. John sold the Helen Marie and now fishes the 32-foot SpuDot. Jeff still fishes the Deana Marie.
I sold the Frances to Mike Anderson, a young Eureka, California, a fisherman in early 2008.
Fishermen Direct is dedicated as always to selling the freshest local fish and best quality frozen products available. We value each and every customer. Come by and say hello, if I'm not out front at the counter I'm either at the computer or out back cleaning, but rest assured you will be Welcome at Fishermen Direct Seafood.